We're glad that people found our tale of two sofas. We enjoy sharing the differences between our products and our competitors.
Since we started this site and others there have been thousands of visitors. If you have a minute don't hesitate to share this site with others. We like sharing the England Furniture Story.
Let us know in the comments what else you are interested in seeing.
It's what's inside that counts….or a tale of two sofas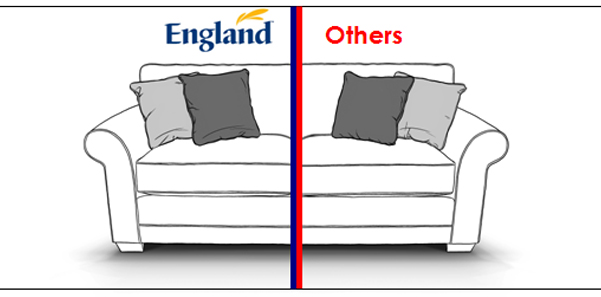 How England's 5635 sofa stacks up to the competition.
This web site illustrates through pictures and text the many ways England Furniture builds quality into its product. An England sofa (5635, Brantley) is stripped of its cover and compared to an similar style built by our competition.  If you care about longevity and what's inside your sofa, you will find this web site very informative.
Frames
The longevity of a piece of upholstered furniture all starts with the frame. England offers a lifetime frame warranty on every piece we build. We can do this because we build our frames from three quarter and seven eighths inch frame grade plywood [1], reinforced with hardwood [2].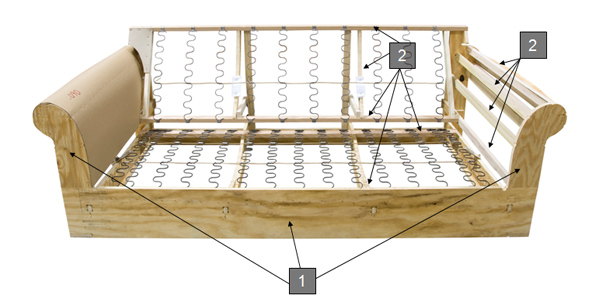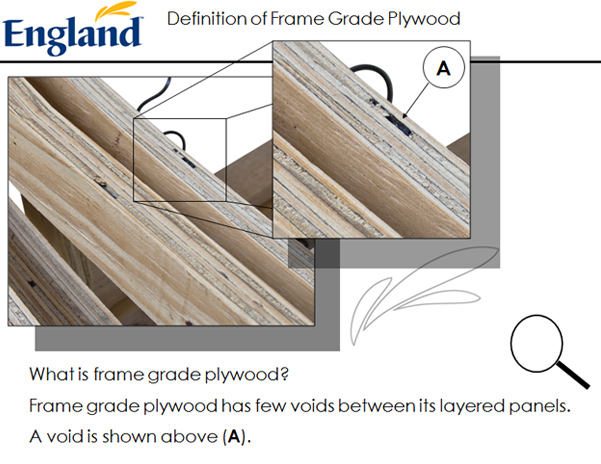 Springs

Other brands use wide loop springs in their seating system. Wide loop springs exert significantly less pressure on the frame. They also cover more surface area, so, fewer springs can be used in the seat. All this means less pressure on the frame. Less pressure means you don't have to use as much or, the same quality of material in your frame.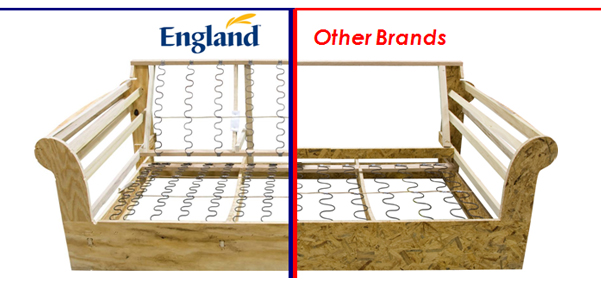 Seat Springs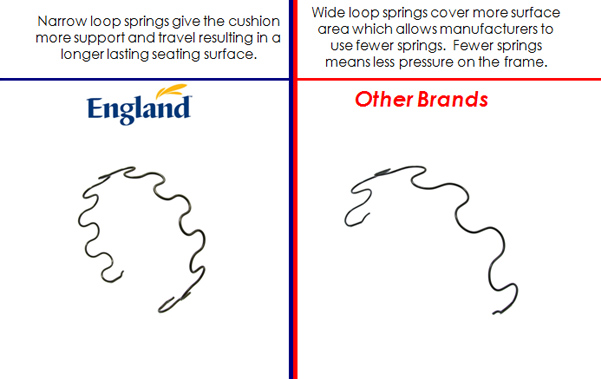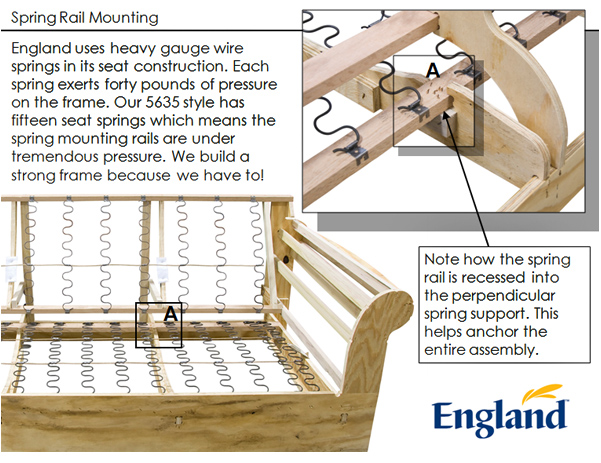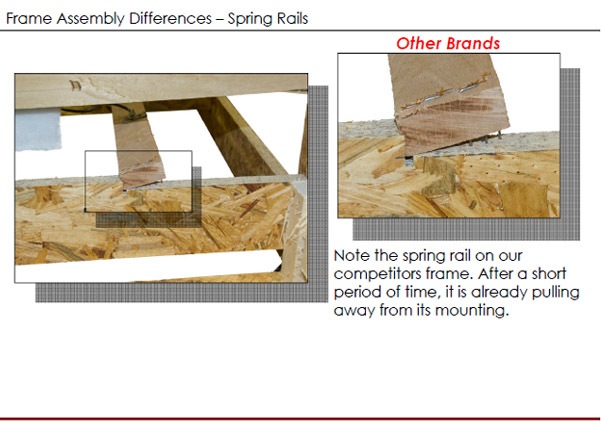 England reinforces its 5635 seat with two perpendicular wires (A & B) running the length of the spring surface. We double spring each end (C) of the sofa and connect the last spring in the series to the frame.
We make sure to run the perpendicular wire under the seat spring. To save time, our competitors attached their wire on the top side of the spring. This will cause chaffing and uneven wear on the seat deck pad.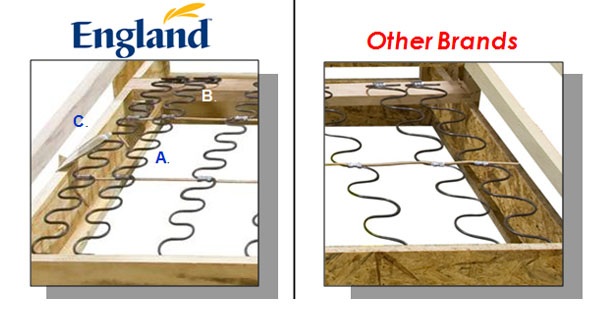 Frame Engineering
All England frames are cut by one of fourteen computerized routers.  This sophisticated equipment allows us to cut with precision and build reference points into our frame. Whenever possible, we design our frames with interlocking joints.  We have so much confidence in our frame design and construction that we back them up with a lifetime warranty.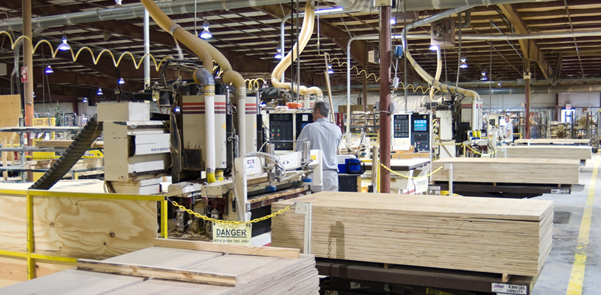 Perpendicular joints in an England frame are interlocked, adding to its overall strength.  Note how the perpendicular spring rail (A) is integrated into the frame.  Note, too, how the leg rail (B) is recessed and integrated into the front rail.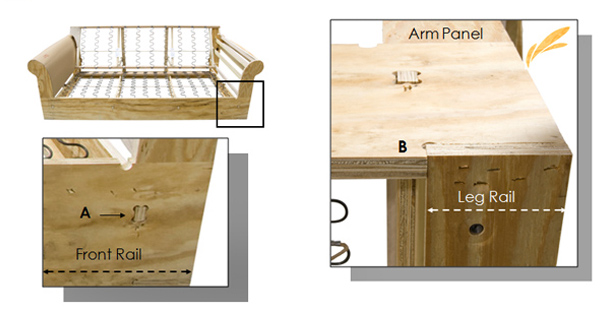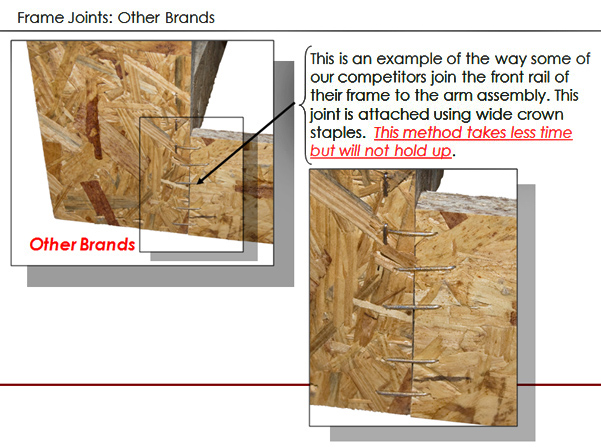 Guide notches cut by our automated routers, act as a road map insuring that our frames are assembled correctly. Note the guide notches along the front arm assembly. These reference points insure arm sticks are placed in exactly the correct position.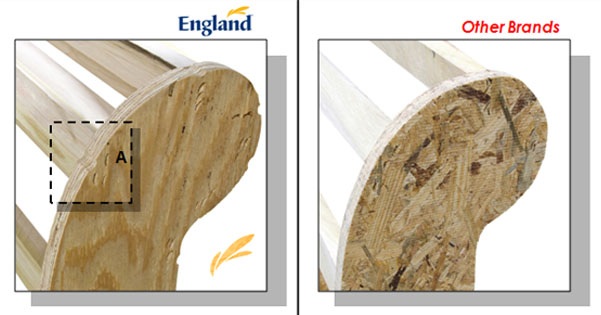 Arm Construction
England uses heavy gauge cardboard (.090) throughout its frame. This is almost twice the thickness of competitors arm cardboard (.054). We use heavy gauge cardboard because it makes our well built frame that much stronger. No wonder we feel comfortable giving you a lifetime frame warranty!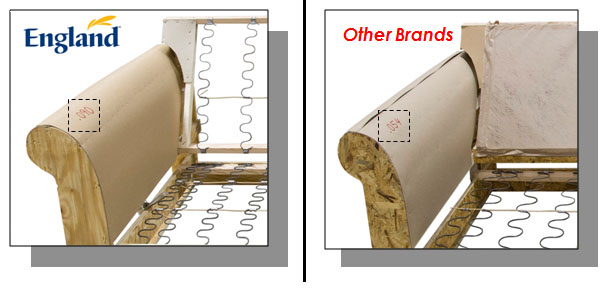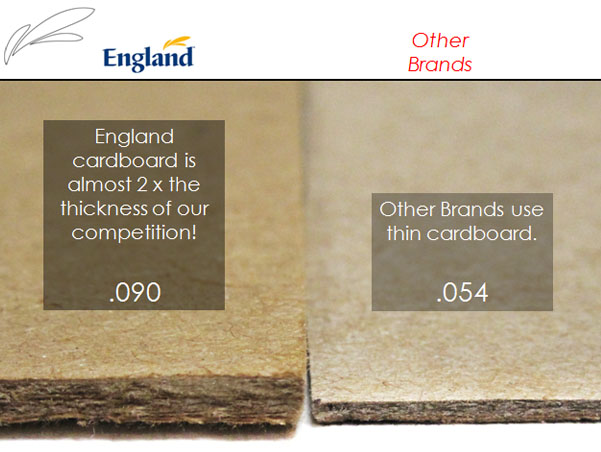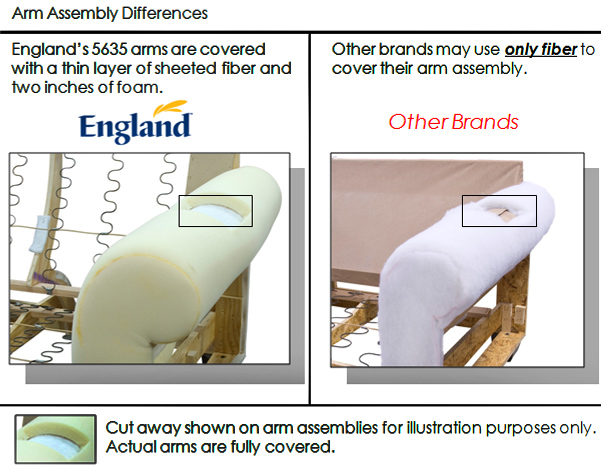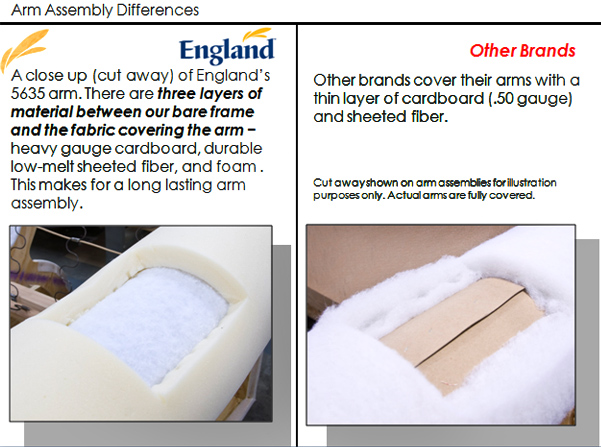 Frame Padding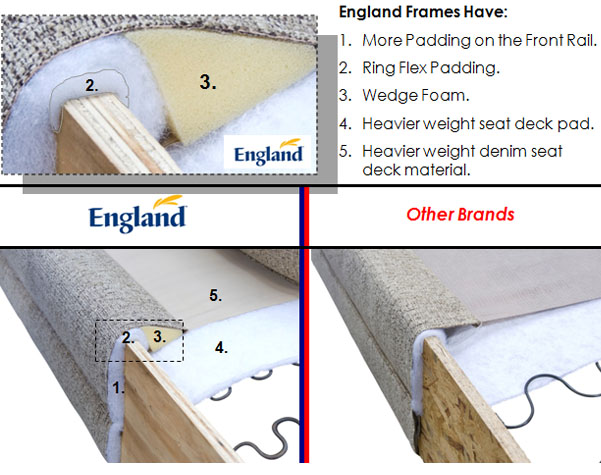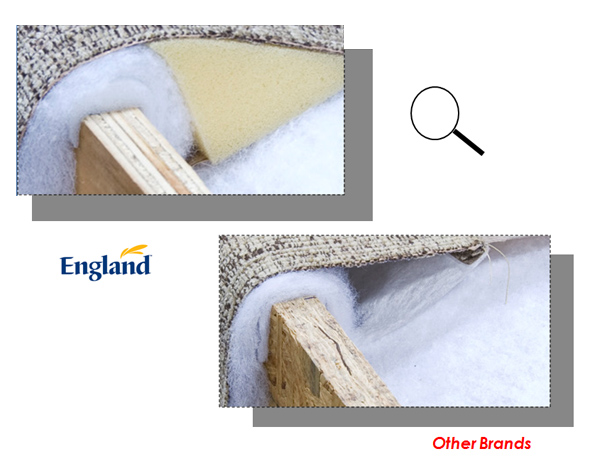 Back Support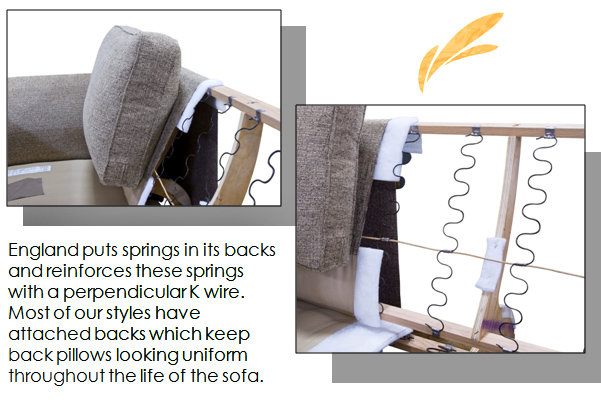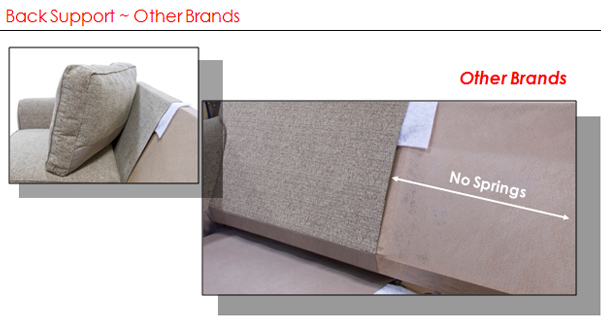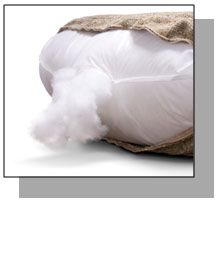 Other brands save money by eliminating back springs in favor of sheeted material. The elimination of back springs results in a back support with no give. Comfort must be achieved with the back pillows alone. When using this type of construction, it is even more important to fill the backs with high grade fiber. Unfortunately, this is rarely the case.
England uses only the highest grade polyester fiber fill in its back cushions. Before placing them in the back casing, fiber is blown into a baffled bag (style 5635). This helps keep the fiber from settling. Even the best fiber fill may take a body impression over an extended period of constant use. For this reason, England installs hidden zippers in all of its backs, arms, and seats using fiber fill. That way, the consumer can add fiber fill to suit their seating preference. A bag of fiber can be purchased at your local hobby store or, for a few dollars, you can purchase genuine England fiber from your local England dealer.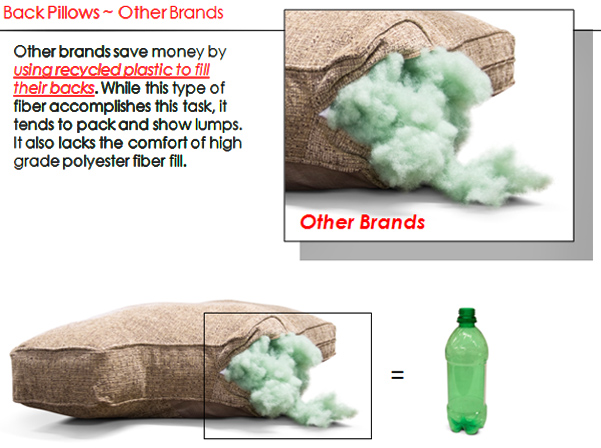 England goes an extra step to insure its backs look good. We sew sheeted fiber to the inside of our backs. This helps create a smooth exterior surface and prevents fiber from migrating through the fabric. Most manufacturers don't go to this trouble because of the added expense. At England, we build furniture that is designed to last.
Back springs, baffled inserts, and high grade polyester fiber fill all help ensure that our back cushions remain as crisp and comfortable tomorrow as they did when you first purchased your sofa.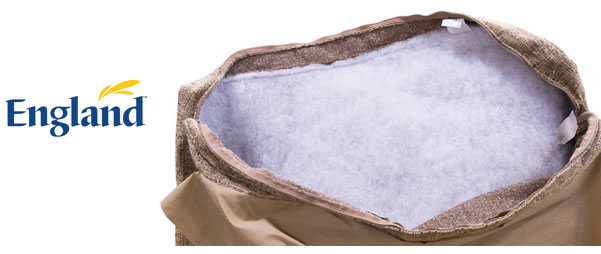 Seating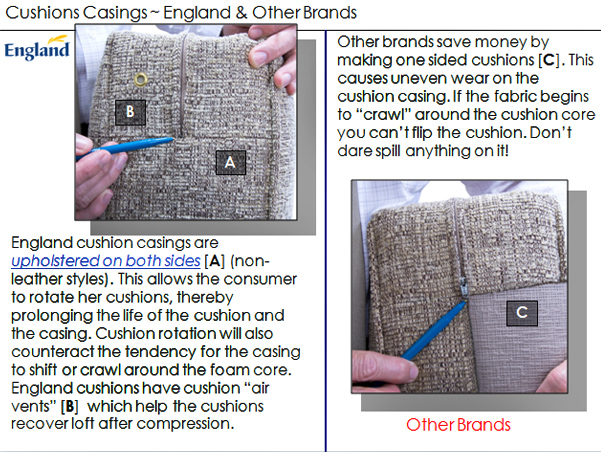 England cushions are made of foam wrapped with a thin layer of sheeted fiber.  To save money, other brands use large amounts of sheeted fiber [A] wrapped around a thin foam core.  England warranties its cushions for ten years. Other brands offer a one year warranty.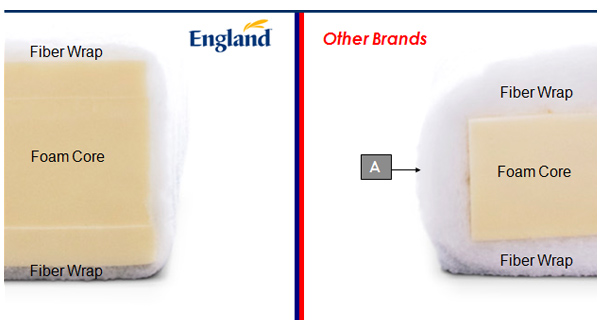 England goes to the added expense of using self healing zippers in all its upholstery.
1. The zipper is punctured   2.  The zipper is pulled apart.   3. The zipper handle is pulled across this split (in the open direction).   4. The direction is reversed.  5. The zipper handle is pulled across the split (in the closed direction).  6. The split is healed.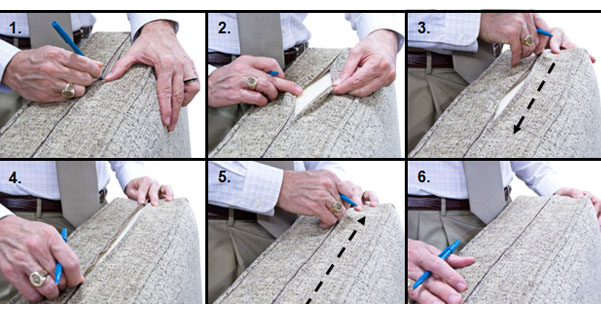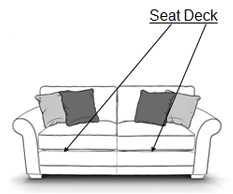 Your sofa needs padding between its cushions and the spring system. England covers its springs with a durable low-melt fiber barrier and a tough seat deck denim.
Other brands cut costs by substituting a non-woven product to cover their springs. Take a quarter and rub it across the seat deck. See if the material begins to break down after a few rubs. This will give you some idea of its quality and durability.

Little things can make a big difference!
Small things can make a big difference. For example, we ship our legs in a bag attached to our sofas. We do this so they won't get damaged during the delivery process. We noticed several consumers asking for replacement legs which were damaged in the process of screwing them into this leg rail. The solution was a small cardboard pad placed between the leg rail and the leg.   It is hidden beneath the dust cover and no one knows its there but, the incidence of damaged legs dropped appreciably once we added this component. . . . . . . It's what's inside that matters.