You don't have to spend a lot of money to liven up your living room. Purposefully adding some color is great way to give your old room a fresh, new look. Consider the following ways you can add some color.
Paint One Wall
You will find that you can add a real punch of color by painting just one wall of your living room. This will really change the focal point of the living room without getting into a major decorating project. If your room has a niche, that's the perfect choice for extra color. You can choose a bold, contrasting color picked from a floral fabric, or a subtle tone darker than the tone of the other walls.
Paint the Back of a Bookshelf
A great touch of color and interest can be added by painting a bookshelf two colors. Paint the frame and outside one color, and paint the inside of the piece, behind the shelves, with a contrasting color. The color will really help the items on the shelves pop out and look important.
Put Some Color on the Floor
A colorful throw rug, strategically placed in front of a chair or under a coffee table can add color and texture to a living room. It can be put on top of hardwood flooring, painted floors, or carpet.
Reflecting Color
Try placing a large mirror on a bare, boring wall. Choose an interesting frame or decorate a piece of mirror with cording or braid. If you have an old frame, consider painting it a bright color. The mirror will reflect the color from around the room and add light to the space.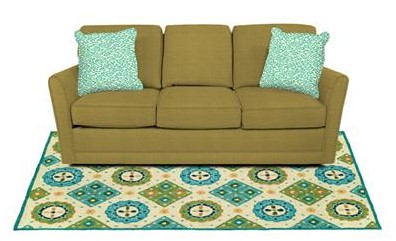 Throw a Few Pillows Around
Nothing adds color like pillows strategically placed on furniture. Whether you choose solids for a floral sofa or chair, or colorful, patterned pillows for a solid color chair or sofa, these simple additions will add comfort and just the right splash of color.
Add a Whimsical Lamp
Even if you have a traditional classic living room, you can add a point of interest by selecting a lamp or shade that is colorful or whimsical.
Get Artsy
A colorful piece of art placed in a living room not only adds a decorative touch, but also introduces colors and shapes you might not be able to use in a larger area. Try framing simple photos with colorful mats and bright frames.