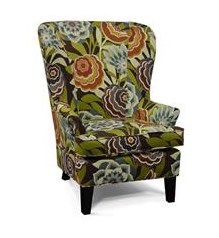 Among the extensive range of occasional chairs that are available today the wingback chair has one of the most enduring pedigrees. Few people browsing for furniture for their home today, however, realize that the wing chair actually has a history spanning hundreds of years.
The wingback is a chair that is usually fully upholstered and has "wings" rising up from the arms and joining the back at a 90-degree – or wider – angle. The original purpose for the wings is assumed to be that these chairs prevented drafts in old houses or they helped to protect a person from the heat of a roaring fire in the hearth. Wingback chairs are often still referred to as "fireside chairs."
The first wing chair likely appeared in the late 1600s, but it was not until sometime after 1720 that it gained widespread popularity. Wingback chairs soon appeared in colonial America and they often had cabriole legs and curving lines distinguishing them from other types of chairs and styles. The fabrics that were used were necessarily subtle or subdued. Examples of bright patterns can be found among pieces from colonial and Georgian drawing rooms.
American wing chairs, also called easy chairs, were often considered bedroom furniture suitable for anyone who was frail or tired and often spent their days sitting quietly in their room. Antique wing chairs were, therefore, often associated with elderly people. This connection led to yet another synonym for winged chairs, the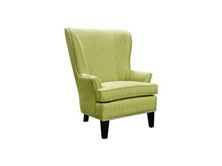 grandfather chair.
Contemporary designers now produce all sorts of shapes and sizes of wing chairs. Though the functional need for the wing chairs has, of course, declined as modern homes moved away from open fires as a heating source, the design motif remains steadfastly popular. Today modern homes have changed their layout and function considerably, but one can often find winged chairs in almost any room. Wingback chairs may have a classic shape but they can be upholstered in a wide array of modern fabrics. Check our selection of England Furniture winged chairs.